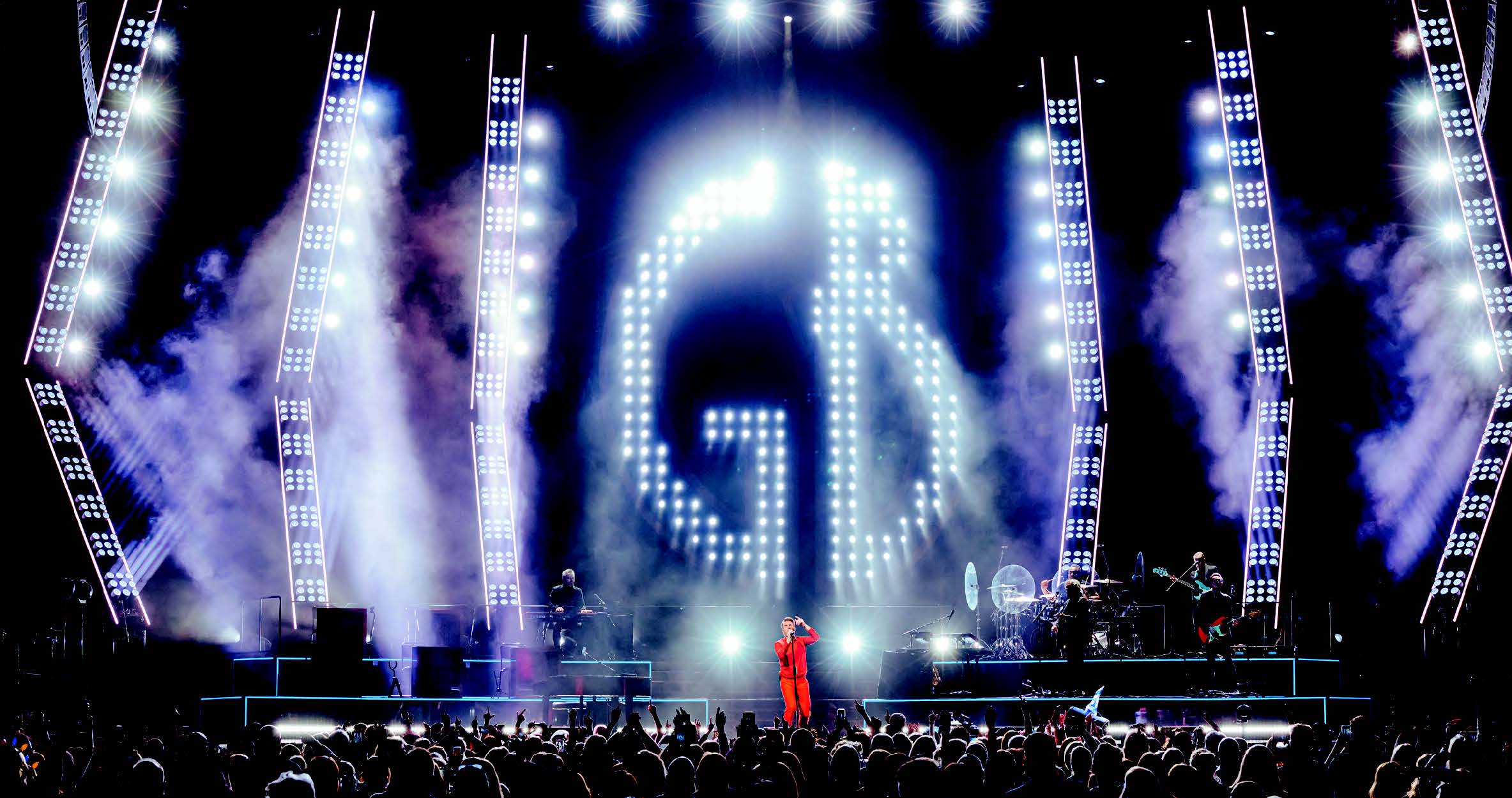 Gary Barlow Tour 2021
I've told this tale once before, when I first reviewed a Gary Barlow solo show for this magazine (see LSi February 2013), but it's well worth re-telling. Back in the mid 1990s, my wife and I were re-acquainting ourselves with London, having returned from a stint living and working in the US. Standing in line to enter The Tower of London, I spotted Clem Burke, Blondie's peerless drummer, already inside. Having worked for Burke on the Parallel Lines tour of Europe and as his drum roadie, we were well-acquainted. Once we were inside, I sought him out; after all, what was he doing in London? "I'm working for Gary Barlow," he told me. I was visibly surprised; I knew nothing of Gary Barlow's talents bar the two Take That shows I'd previously reviewed for LSi. I liked boybands – it was like revisiting the heights of Motown from my own teenage years – wonderful vocals and great dance routines to fantastic three-minute pop classics written by the powerhouse that was Holland, Dozier, Holland. In my naivety, I had assumed the same combination applied to Take That . . .
"No, no," said Burke. "He's a great songwriter. I'm really enjoying the work; melody, lyric, hook. He really understands what makes for a great pop song." Burke's opinion has been vindicated a thousand-fold, but it didn't fall into Barlow's lap. That's what I find so illustrative about Barlow's success – he has always worked bloody hard for it, something he continues to this day. In speaking to his production team for this tour, it's clear that drive percolated all the way down.
PRODUCTION
For this Gary Barlow tour, the production manager's hat goes to Paddy Hocken, with Chris Vaughan of CV Productions being preoccupied in Las Vegas with Adele's residency. I first spoke with Hocken back in early October, just before full production rehearsals at Fly By Nite's facility. It was apparent even then, prior the emergence of omicron, that all elements of production had been examined with a weather-eye on maintaining that all-important isolation bubble. How right Hocken was to be so cautious. "That said, this is a big arena production and we will aim to make it feel as normal as possible," he said. "Full-scale and polished; a Gary Barlow tour is nothing if not a quality show. He always wants it to be that way – why should now be any different?"
Considering what transpired across the nation during the run of the tour, it is to the credit of Hocken and the team he assembled that the tour was so successful, and so tumultuously received.
LIGHTING
The show opens emphatically in red and doesn't rest from that area of the spectrum for five numbers. The original concept was quite different, as outlined by lighting designer Tim Routledge below, but the great disruptor impacted this tour as much as it has affected all of our lives. That opening is a bold, defiant gesture; Barlow sets out his stall with aplomb, "you're all going to have a good time". That decision alone throws down the gauntlet, challenging the audience to run with the show's powerful surges.
Where did the powerful opening come from? Routledge offers some perspective: "In a way, this is a postponed tour to introduce the album Music Played By Humans [released in 2020] but of course, it has had to evolve over the last two years. Now, it's more an 'all the hits' show; even more than that in fact, as he has another new album out now [The Dream of Christmas, released late 2021]. Misty Buckley [set design] and I have worked together on this new iteration of the tour since June 2021 when the tour changed direction with the arrival of a second pandemic timed album release, and the show has since become very heavy lighting-wise. Lights are so heavily integrated into the set that it has to be that way of working."
He adds: "I love working with Misty – her detail on set pieces is always second to none; that just makes things look more considered and cohesive. The kick-off point to the show is 'a big band for the modern era', a concept that comes from Gary's imagination. The origins to most of what the show is feeds directly from him." How so? "The show falls into four sections – Vegas, Christmas, a compact B-stage in-the-round segment, and the finale. The first references a classic Las Vegas-style big-band show. Red is the theme, to the extent that Gary wears a red suit and red shoes. It's mainly new songs from the Humans album. The band is his normal five-piece, augmented by a six-piece brass section."
Routledge continues: "It's a cold start – there's no big entrance, he walks out in blackout, the spotlight hits him out of the darkness, and he starts to sing a cappella. As each line of the first song builds, he introduces the band one by one. That works great for a soft opening. I think that example underlines how Gary has command of what takes place on stage and how we make it look for him. Development is a very direct process; he speaks to Misty and I, not via his management or an assistant, and he does so regularly."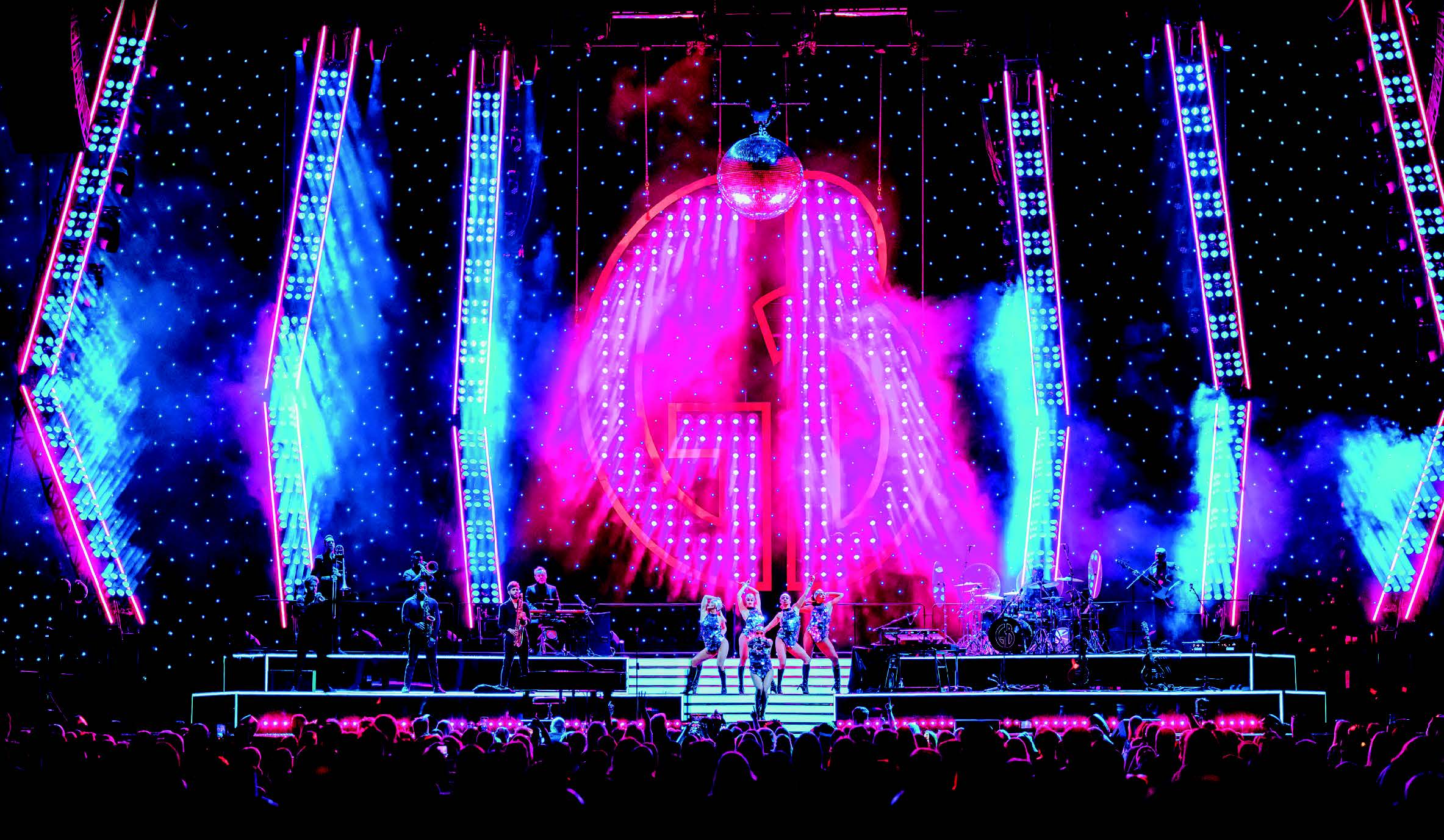 Can you give us an example? "In terms of Gary communicating the direction of travel for the show, that is an absolute. For example, he had been working with his stylist Stevie Stewart and had determined the all-red costume right down to the shoes. He brought that original idea to us – that wish to have a red flavour to the first five songs – he wanted bold Vegas."
And the reds are brassy and bright, with the big brass section and dancers in feather headdresses, it oozes Las Vegas at its best. It's not all-red all the time, of course – Routledge relieves the eye with open white to provide the highlights and accents the stage needs.
"That's an intervention from him that gives a strong direction for how to approach a whole section of the show," continues Routledge. "A more detailed example could be one that deals with the specifics of a sequence: the addition of a scenic fireplace on stage and the falling of snow during the Christmas section were directions from him. Misty and I might have selected or suggested all manner of ways to contextualise that section, but he already had the vision, it only remained for us to realise it for him. At the musical level, he keeps us up-to-date about how he is developing the setlist way before and during band rehearsals prior to us going into production. So we know what's coming, the ebb and flow, the light and shade of the show. That is so helpful and he will let me know any key points he wants to emphasise throughout the show. In production rehearsals, that direction continues; he will talk with the band and the dancers and tell us what they want to work on. Likewise, he will ask us if we need to work on something from them. Lisa Spencer, his choreographer, was originally a dancer on a Take That tour; they came up with the sleigh ride gag in the Christmas scene. I cannot overemphasise how, because he knows what he wants and controls the flow directly not via other people, that is really effective. There is no ambiguity or confusion and it's massively efficient."
The Christmas section comes next; this is the point where the audience abandons any sense of inhibition and lets loose. "We always expected this to have an impact," says Routledge, "you don't create scenes for them to languish. But the audience response has been immense. Gary does some of his own original Christmas songs and some traditional ones and it goes down a storm. So we start high in Vegas and get higher. Yes, it's cheesy, but isn't that what Christmas is about? We all like to indulge and right now, everyone just wants to have fun."
As the fake snow is cleared from the stage, Barlow travels to a small B-stage in the centre of the hall for part three. "He normally walks through his audience and spends a lot of time hugging and greeting his fans. That has had to go and he now follows a COVID-safe route; if he gets sick, the tour's over. He does miss it and I'm sure the fans do, but they still get to see him up-close. The B stage is relatively small, so there's nowhere to hide – just him, a piano, and two band members. It's presented low-key, just 10 floor lights and followspots. Normally, he'd play ballads in this setting, but instead, he raises the temperature even higher, performing classics like A Million Love Songs, The Greatest Day, and a huge crowd-pleaser, Let Me Go."
As that segment draws to a close and he's whisked away, a large mirrorball lowers in above the main stage. When Barlow re-appears, we're straight into what you might call the disco finale.
"It is all very Studio 54," says Routledge, only slightly tongue-in-cheek. "And again, it's more of the big hits, Shine and Rule the World, for example. In fact, all the big hits right to the end – all killer, no filler."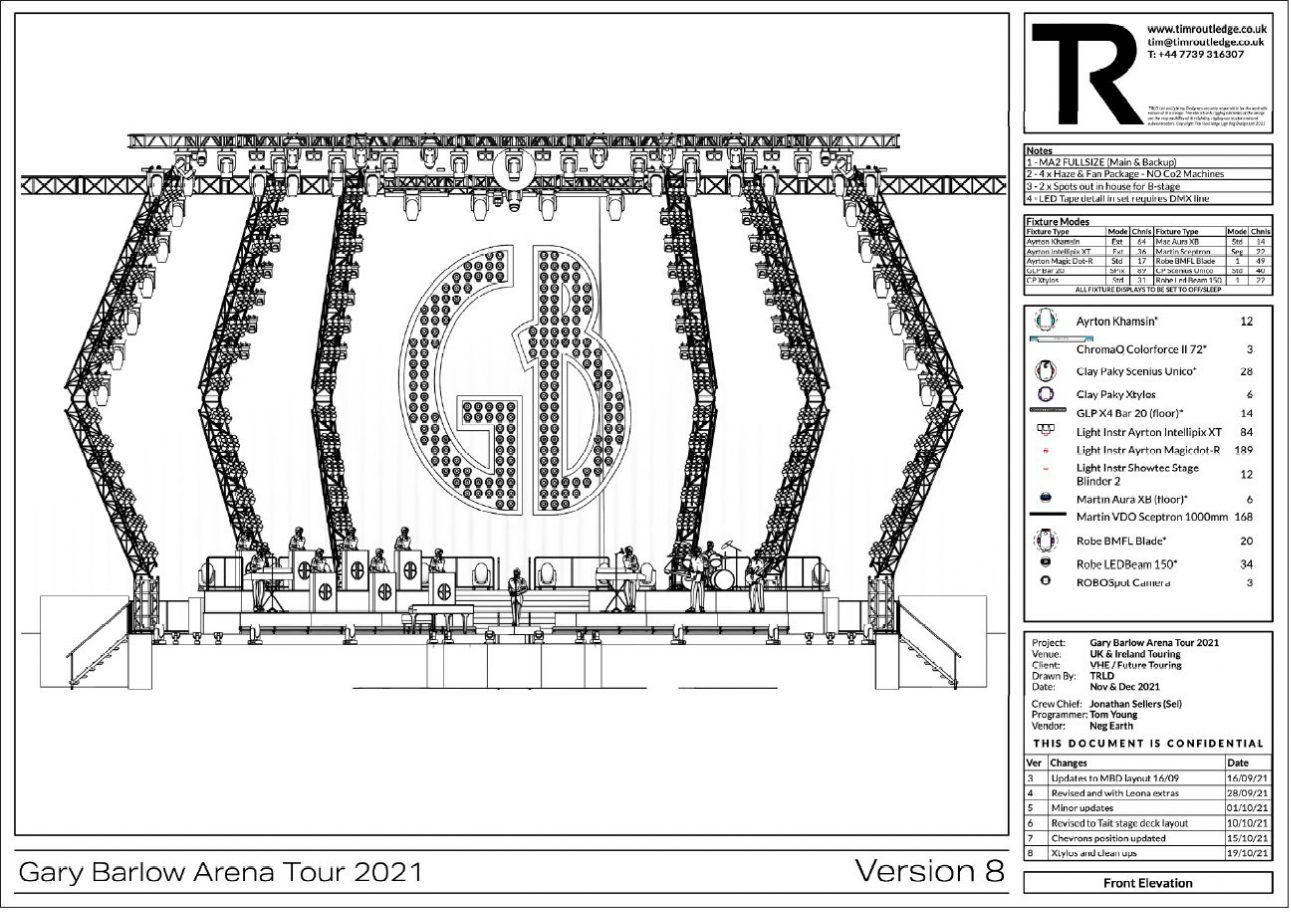 In terms of hardware, Routledge has made some keen choices in how he lights all this musical extravagance. "The way we differentiate the scenes theatrically is through the colour palette. Lighting carries a big load in that sense. There are some props like a decorated fireplace for the Christmas sequence, but mirrorball apart, there are no huge automation gags in the show at all, it's all down to lighting."
"Centre-stage, there's a big bold set of Gary Barlow initials in an old 1930s font. It's populated with 200 Ayrton Magic Dots inside. They transform something simple into a constant shape-shifting, colour changing focus of emphasis – the whole piece pans and tilts like some gargantuan moving light." An effect, it should be noted, delivered by some deft programming, as we will learn.
"The main structural element of set/lights is the six vertical chevrons that cup the performance area and frame the initials." Routledge continues. "Each covered with 16 Ayrton IntelliPix which are just brilliant. At nine individual parallel beams per IntelliPix unit, that's like having almost 900 small individual Sharpys. The chevrons are also edged with Sceptron LEDs which hide the truss and give the show a modern, neon feel at times, and add a sparkly effect like falling snow in the Christmas section. I first used the IntelliPix for X-Factor and they are absolutely stonking, just so punchy and versatile. Thankfully, Neg Earth has them in the sort of quantity I needed – yet one more example of why Neg is such an easy choice as supplier; skilled crew, great gear in abundance, Neg Earth has everything. Gary had asked for 'twinkly, warm and sparkling', and that's just what the IntelliPix are, as well as delivering bold punches of light that are accented at every turn. Other lights include Claypaky Scenius Unicos for a lot of the aerial beam work, Robe LED Beams, and BMFL Blades for remote control followspots. Gary also very much wanted a starcloth. I haven't specified one for years but actually, used sparingly when it's 120ft wide and 40ft tall, it makes the set very special." Routledge applies it for the Christmas section, and in so doing, seemingly lifts the chevrons and 'GB' initials to float magically in the air.
He continues: "The whole show is run on a grandMA2 that Tom Young programmes for me on MA3 hardware; he just prefers it as he has moved his muscle-memory to the new hardware. There are several reasons for sticking with the MA2 for running the show, besides it still being the desk of choice in most live concert situations. Rob Gawler, who runs the show for me, is an MA2 devotee, plus Tom couldn't be present all the time at rehearsals, which meant I had to maximise his time. He is unbelievably fast – arguably the fastest programmer out there. I also love James Scott, he programmes a lot for me as well across a number of shows. But Tom and I have worked together for at least seven years on Gary Barlow and Take That shows, so his face fits the show perfectly. That brings a significant impact to the work of building a show, the slang and shorthand we use is refined to a point of hyper-efficiency. Tom also brings great musicality; he has covered Gary for me over the years and knows many if not all the songs. With that skillset he offers up stuff to me in real-time; he's exciting to work with."
And where's the pay-off for Routledge? "Satisfaction for me comes from working with an artist the stature of Gary Barlow. From a more general level, what makes it worthwhile is that magic moment when the houselights go down. A cliché maybe, but one that always brings up the hairs on the back of my neck."
Wrapping up, he says: "For this tour, we left rehearsals already in a good place, but even so, I was surprised by how mad the audience went. You can't beat that feeling. And Gary is in great voice; he's singing better now than when I first toured with him 10 years ago. He's a superb performer at the top of his game; he knows how to deliver. A great songwriter, great singer, writes terrific scores for musicals: he's pure talent, and the reviews have underlined that fact."
SET DESIGN
Although Misty Buckley was unavailable for interview due to the immense workload she is currently under, Paddy Hocken had much to say on her behalf. "She has done an absolutely fantastic job, well-supported by her art director Matt Rees and prop designer, Richard Olivieri. Ben Brooks and Jordan Whittemore at TAIT UK really pulled it out the bag for us on the build. They supplied the main stage, apron, lighting shelf, tech bunkers, band risers and camera platforms. The B-stage, a 16ft wide decagon, is fitted with an electric scissor lift for Gary's piano, all finished with Hi-Shine flooring. A combination of
rental stock and customised pieces, at a ratio of 80%-20% respectively, made this ecologically-sensible."
Hocken continues: "On the fully bespoke front, TAIT fabricated the 7.5m tall 'GB' sign Tim liked so much; the central steps with opal polycarbonate fascias and gold powder-coated step tread angle detail; magnetic Di-bond riser fascias with integrated diffused LED in gold powder-coated channels. The Christmas props include 20-odd giant gift-wrapped presents and a tourable 16ft high dressed Christmas tree. These details, especially on the steps and risers, really enhance the Vegas flavour of the show opening and sustain a polished look throughout."
What about the fireplace? "We wanted it to have a fire with real flames – not the easiest thing to achieve safely," says Hocken. "Marc Webber at ER Productions really impressed us with his solution – being able to have our special effects supplier deliver the whole gag was great. By the time Stephan Saliba from TAIT UK Scenic had added all the finishing touches to it, the piece looked very authentic."
SOUND
Anecdotally, those of an older generation who find rap, hip-hop, grime and drum'n'bass an impenetrable musical form, will be pleased to discover complete relief in the music of Gary Barlow. His ability to access, harness and exploit melody, modulation, harmony and the development of tempo in the structure of his musical output can illustrate many of humanity's strongest emotions. In short, he writes a great pop song.
Read the full article here.
Originally Published by LSi Online. 
Photo credit: Luke Dyson.
www.negearth.co.uk
www.skanpa.co.uk
www.taittowers.com
www.video-design.co.uk
Do you need lighting and rigging equipment for an upcoming production?