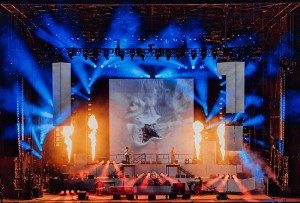 Biffy Clyro headlines at Download 2022
Europe – Like many a band, Scottish rock superstars Biffy Clyro have just embarked on a busy summer of festival appearances with a headline slot at Download.
"The only way to spend the Summer," said creative lead Richard Larkum, "And so it is, but a lumpy restart to all things touring has seen us need to devise four different scales of shows depending on where we are playing. We also have a leg in Germany coming up in August that demands another big system and I will revise yet again. It's a constant thought process in that August is already in the back of my mind."
A bonus for trucking companies as the four to five systems leapfrog their way around Europe, but for main suppliers Neg Earth Lights and Video Design it is quite a challenge. Production manager Jerry Hough described it succinctly while backstage at Download, "Every supplier is having a tough time at the moment with availability and finding crew. Fortunately, we have long term relations with both companies and that has been reflected in the excellent way we are being supported now. They have really stepped up to the mark. Talk to Alex at Video Design and you'd think this was a normal summer; that's very reassuring on a festival schedule as complex as this."
Larkum, meanwhile, has that ability to make it all sound easy. "Download was all LED based, lots of hi-def screen surfaces everywhere: a big upstage screen, on curved riser fronts and a number of hanging LED rectangles I refer to as the Tetris pieces. Lighting is also LED: Ayrton Khamsins, Robe Spiiders and GLP JDCs. As we left Download a slightly scaled down Scandinavian rig was already on the ferry to Norway while we flew out to Prague for our next show with rig version three. The start has been very successful, the prep of equipment from Neg and Video Design has been faultless. My lighting team led by crew chief Alex Peters have been fantastic. The band are really happy, the punters are loving it, and I'm really glad I'm back doing what I love."
The show is based around the band's two most recent albums, 'Celebration' and 'Myth'. "The visual artwork of the covers has determined the look," confirmed Larkum. "Based on Misty Buckley's original design outlined before Covid interrupted our flow, what we have now all springs from those two sources. A high point of the shows is when James (the bass player) grabs a camera and feeds headshots to our video director Oscar Sansom. Video Design have added a paint strip effect via Notch onto our d3 (Disguise) server which I trigger from my Hog 4 console. It's something that stems from the band's own Instagram filter. The Notch effect does the same thing there, a blue strip across the eyes of the headshot for Celebration, a red strip for Myths. Lots of the fans in the audience recognise it immediately but it's such a great effect the response is always huge."
Despite the differences in system designs the show is as cohesive as it can be, the punters get an authentic, distinctive Biffy show. Interestingly, the changes in video disposition have seen Larkum adopt an asymmetric approach to lighting for the big system. "I've had to revise my thinking about focusing, it's a different thought process than a symmetrical rig, but it makes a great impression, a world away from the more traditional all symmetric look of the older rock bands. Either way, the band always feels comfortable and familiar with whatever presentation package we build around them."
Article Credit: et now
Photo Credit: Joe Guppy 
Do you need lighting and rigging equipment for an upcoming production?