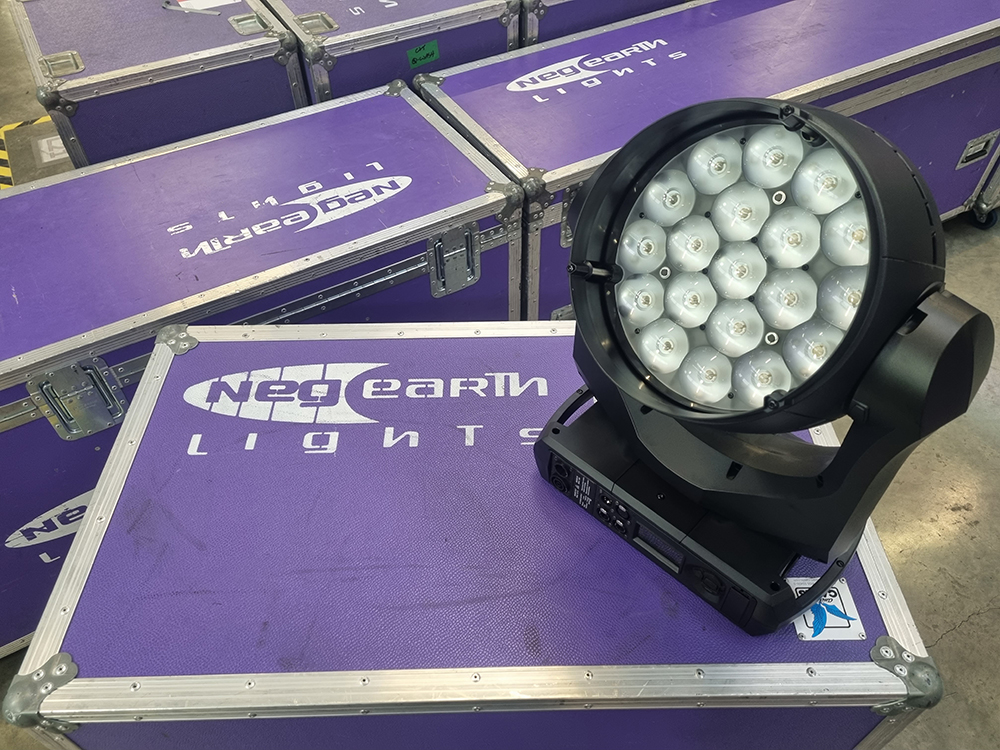 New Arrival! Martin MAC Aura PXL
Leading lighting supplier Neg Earth Lights have made a significant investment in Martin's new MAC Aura PXL multi-source LED wash with the addition of 100 units to their rental inventory, supplied by Martin UK distributor Sound Technology Ltd.
The Martin MAC Aura PXL is an industry first – a workhorse LED wash light capable of multiple source pixel-mapping. Its 141 Aura backlight pixels and 19 main beam pixels are all independently controllable. In addition to DMX, Art-Net and sACN, the fixture can be controlled by Martin´s P3 protocol for setup and programming and allows a rig of fixtures to deliver cohesive content that blends together with video content on panels or creative LED products. You can even blend seamlessly between console and media input sources via the P3 mix channel.
The MAC Aura PXL's new attractive facia and a hugely increased output of the Aura backlight allows the PXL to create stunning facia and wash effects on a much larger scale compared to the MAC Aura XB. The MAC Aura PXL has an output of 10,500 lumens in wide beam, 8,500 in narrow beam, while its RGBW colour-mixing light engine is capable of very bright and vibrant saturated colours, as well as beautiful pastels and white tones. The MAC Aura PXL also has a rich feature set of internal FX macros allowing maximum versatility even when time is of the essence.
Joao Magalhaes, Technical Solutions Manager, Neg Earth Lights, commented, "The Martin MAC Aura PXL is a great addition to our stock, modernising our portfolio of technology boasting multi-lens with backlight capabilities. It's 10,500 lumens of RGBW light output and 1:8 zoom range enables the fixture to deliver on productions of various sizes. The option for integration with our pre-existing P3-300 system and VDO Sceptron range allows us to offer an excellent creative package to our clients. Our team looks forward to seeing the Martin MAC Aura PXL in action."
Original Article: Neg Earth Lights add 100 Martin MAC Aura PXL fixtures to rental inventory (soundtech.co.uk)
Credit: Sound Technology
Are you planning a production? Martin's MAC Aura PXL, along with our other industry leading equipment, is available for rentals and dry hire.