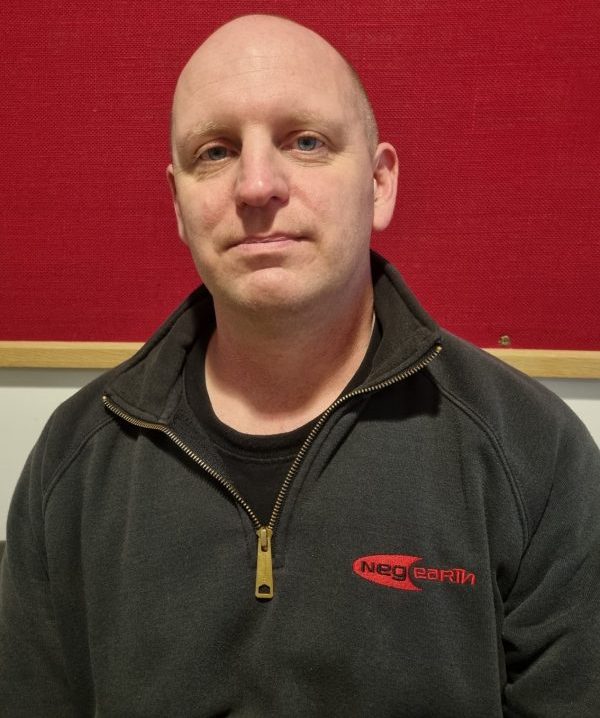 Meet Dan Skinner, the focus of the second edition of Employee Spotlight. Learn about Dan and what makes him an integral part of the Neg Earth Lights team.
Dan Skinner has been working for Neg Earth for 9 years, he started his journey with the company as a driver, spent time as a supervisor and has now been a Deputy Warehouse Manager for the past 3 years, we conducted a short interview with Dan to find out more.
What is your role at Neg Earth Lights?
[Dan] As Deputy Warehouse Manager it's my job to make sure every show, event and tour has the equipment it needs, and that it all comes back!
What did you do for a job before working at Neg Earth?
[Dan] Most of my working life has been spent behind the wheel of a truck delivering and collecting everything from oil rig machinery to baby food across the UK and Europe.
How did you first learn about Neg Earth Lights?
[Dan] I was aware of the company through working as an events truck driver. I saw they were looking for a driver, so I applied, and I have been here ever since.
What is your favourite part about working for Neg Earth?
[Dan] The unpredictability, if you think your day is going to go as planned, think again.
What 3 words best describe Neg Earth Lights?
[Dan] Rewarding, Challenging, Fun.
How has Neg Earth Helped you in career development?
[Dan] Neg have given me training in several areas including event management, budgeting, negotiating – the list goes on! The most important part to me is that I'm encouraged to use it all.
If you could switch your job with anyone else at Neg Earth, whose job would you want?
[Dan] My manager Steve, because then I'd have me working for me and that's great right?
What has been your favourite project at Neg Earth Lights?
[Dan] It's always a great feeling to be part of a project from the start and then watching the final flight case roll onto the truck after weeks of prep work. Seeing content on social media of the production makes it even better. Of all the artists we've supplied, Iron Maiden mean the most to me, getting to sit behind Nicko McBrain's drum kit in Paris was the highlight.
If you had to eat one meal, every day for the rest of your life, what would it be?
[Dan] Fish and chips on a boat, just off the French Riviera.
Would you rather be a tiny elephant or a giant hamster and why?
[Dan] A tiny elephant, I could live with all my elephant family and friends then at night go play with the other little animals without scaring them.
Which cartoon character would you most like to switch lives with?
[Dan] Fred from Scooby Doo because he went around hunting ghosts and drove a cool van.
What is your favourite TV series?
[Dan] Anything with cars in; Scooby Doo, The A Team, Knight Rider.
If you were an animal, what would it be?
[Dan] I want to be a tiny elephant.
Name a cause that is close to your heart.
[Dan] Anything that encourages people to talk about their issues. There's nothing that can't be solved by talking.
What advice would you give your 10-year-old self?
[Dan] Stop pretending to be a tiny elephant and go hunt some ghosts.
What is your proudest moment at Neg Earth?
[Dan] A few years ago, I had to deliver an emergency replacement follow spot on a Saturday evening to Manchester Arena for Alfie Boe. As I got there, the intro music had started, and they had to delay his entrance to the stage as we lifted the light up. The crew did it just in time and as I walked back down the steps he said, 'cheers mate.' That was nice.
What advice do you have for prospective Neg Earth candidates?
[Dan] Come with an open mind and prepare for no two days to be the same. Don't hesitate to get stuck into your job, your input will be rewarded.